Educator of the Month - Melissa Cadwaladr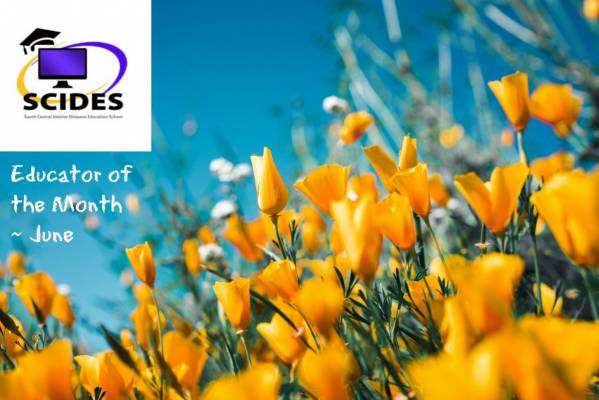 It's the last month before Summer Break (watch for our Reading Challenge coming your way!) and we're thrilled to talk to the final Educator of the Month for this school year, Mrs. Melissa Cadwaladr.
Mrs. Cadwaladr, thanks for taking the time! Let's get started. Where are you from?
I was born in Windsor, Ontario but moved to Kitimat, BC when I was 6 years old. After graduating from High School, I moved to Vancouver for school. I have taught in Kitimat, Birmingham, England; Penticton, and Merritt.
That sounds like you had some great experiences teaching all over the place! How long have you been a teacher at SCIDES?
I have been teaching with SCIDES at the Insight Learning Centre in Kamloops for 3 years.
Good to have you on the team. Why did you become a teacher?
In High School, I had a teacher who really inspired in me a desire to do better and take school more seriously than I had previously. I began to really enjoy learning about History and decided to obtain a History degree in University. From there I went on to study Education.
Yes, teachers make all the difference. What's your favourite aspect of being a teacher?
My favourite aspect of teaching is connecting with students. I find that relationship building is key to getting students to meet their personal potential.
And your least favourite aspect?
As a Support Services Teacher, the documentation and paperwork aren't exactly my favourite.
We're pretty sure every single Educator of the Month this school year has said that! What's your best advice for students who want to figure out their career path and calling?
Start exploring based on your interests but be open to new things and experiences. You never know where they may lead you.
That's great advice! What's your favourite book and why?
I don't think I have a favourite book but I tend to gravitate towards the mystery and suspense genre when I am looking for something to read. One favourite was "The Eight" by Katherine Neville which combines historical fiction and mystery.
Spoken like a true lover of history! What's the best advice you've ever received?
Be kind to everyone, especially yourself.
We love that! Is there anything you still want to learn yourself?
I am always learning new things as a teacher and a parent but I would like to learn to knit and paint one day. And how to love exercise.
Well, let us know how to love exercise once you figure it out! When you're not busy helping your students and marking assignments, what do you enjoy doing?
I enjoy spending time with family and friends, camping, skiing, gardening, and reading.
Thank you, Mrs. Cadwaladr, for taking the time!
Do you have questions about how we can help you take charge of your education? Connect with us via our website, where you can also browse course and program options, and find study tips for elementary and secondary students.