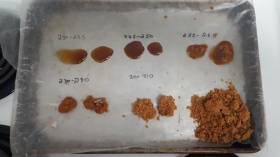 May 9-12, 2022 was STEAM week at SCIDES and we hosted a total of 9 amazing workshops. Here is a recap of the week:
STEAM Day 1 Recap...did the egg break?
STEAM Week Day 1 has wrapped up. Thank you teachers for the great workshops! Thank you students for joining in and having fun!
On Day 1, students learned about the science of maple syrup and then made their own maple syrup candy with Mrs. Tilt, all while doing an experiment! There may be a few pots to scrub clean now, but there was also a lot of yummy maple candy made. Check out the picture for some of the samples that were taken at different points of the experiment.