Pay it Forward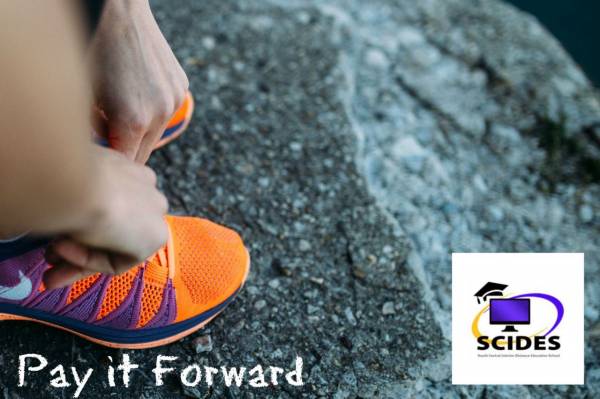 The new school year has started and we're excited for our first "theme of the month". We had originally planned for September to be Geography Month, but found that in honour of Terry Fox, it would make much more sense to make September "Pay it Forward Month". Let us explain:
When Terry Fox learned (before his 20th birthday!) that he was suffering from a malignant tumour in his right leg, he underwent treatment and his right leg was amputated above the knee. The night before the amputation, he dreamed about running, and vowed to raise awareness for cancer research by becoming an amputee runner.
His Marathon of Hope was meant to lead him from coast to coast, and he ran over 5,000 km during training. With his plans for the run, he wrote to the Canadian Cancer Society: "I'm not a dreamer, and I'm not saying this will initiate any kind of definitive answer or cure to cancer, but I believe in miracles. I have to."
Terry started his journey on April 12, 1980, in St. John's, Newfoundland. After 143 days and close to 5,400 kilometers, he had to give up in Thunder Bay, Ontario, because the cancer spread to his lungs. Terry returned to British Columbia for treatment, and passed away on June 28, 1981, a month shy of this 23rd birthday.
35 years later, Terry's message of hope and resilience is as important as ever. Between 1980 and 1981, the Marathon of Hope raised over $24 million, and the annual commemorative run continues to be an important contribution to cancer research. Terry believed that young people will change the world, and while he is not alive to know that research has made huge strides towards a cure, his spirit lives on in the thousands of students donating and raising money each year, in his honour.
The concept of paying forward means "doing something for someone, without expecting anything in return". A donation, encouraging words, and unconditional support – everything counts, and holds enormous power for everyone involved. Knowing that someone cares enough to put other's well being first, or to go out of their way to make someone's day better – there's a lot of power in that. It makes the world a better place, fuelled by hope.
We at SCIDES are thrilled that September is Pay it Forward Month – and we encourage you to try it. Participate in your local Terry Fox Run (September 20th) or School Run Day (September 30th), raise awareness, donate, and help spread hope.
We have our Terry Fox Run planned for September 30th, and we'd love you to join us, if you're local. Let's make a difference together!