February is History Month at SCIDES!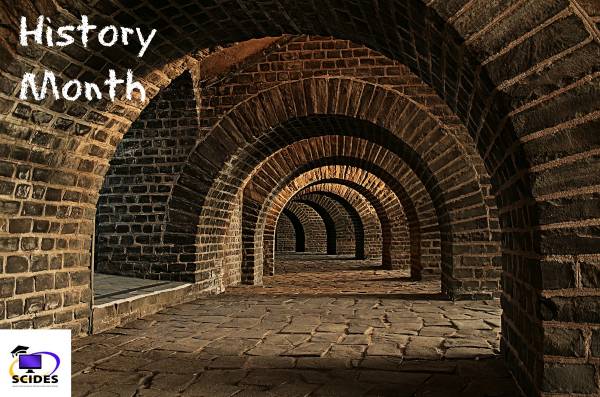 January was Reading Month at SCIDES and we hope you had a chance to check out some (or all!) of the resources we mentioned in our last blog post. This month, it's not only a new semester for most secondary students, but we're also diving head first into an exciting topic: history. History does not have to be ancient, and certainly not boring! It's being made every day and both our shared current and past experiences bind us together. They are stories worth learning and sharing! Here's what we want to share with you this month:
Special Days:
February 8 is Family Day in BC. It's a holiday to celebrate the importance of family and family life in communities. Schools are closed and most families spend the day together, taking part in activities designed for the whole family. One of those activities could be going to a museum, and we have some info about that later in this post!
February 14 is Valentine's Day. It's one of the most popular holidays for sending cards and giving chocolates, and its origins go back to the year 270 - when chocolates and cards definitely didn't play a part in people's lives. You can read all about the interesting history of Valentine's Day here.
We'd also love to hear about how you will celebrate Family Day and Valentine's Day - hop over to our Facebook page and chime in!
Black History Month in Canada:
Canada has a rich First Nations History, and the settling of European pioneers has been recorded since the 1800s. One thing that's often absent in the history books, is the role black Canadians played in our history. To honour the role Canadians of African descent played and play in our country, Black History week has been observed since the 1970s. In 2008, Black History Month was adopted by the House of Commons and has been observed ever since. You can visit the Canadian Black History Virtual Museum and Treasure Hunt on the Government of Canada's website for an interactive display.
Museums:
BC is full of interesting museums, you can find a list of them on this Wikipedia page. Can't get to a museum in person? Why not take a virtual tour? Visit the Virtual Museum of Canada, a huge source of digital exhibits and shared experiences - you can spend days there! Also an incredible experience: The Canadian Museum for Human Rights in Winnipeg. Check out their website for more information. Finally, if you're thinking about finding a summer job in one of Canada's museums, you have to check out the Young Canada Works Program from the Canadian Museums Association.
At SCIDES:
You can learn about History any month of the year, with one of the courses we offer at SCIDES. Choose your own field of study in an Independent Directed Studies course, learn more about First Nations history with BC First Nations Studies 12, or go for an intense history experience in our History 12 course.
We'd love to hear about your adventures in history - chime in on our Facebook page, or contact us at SCIDES.