October is Art Month at SCIDES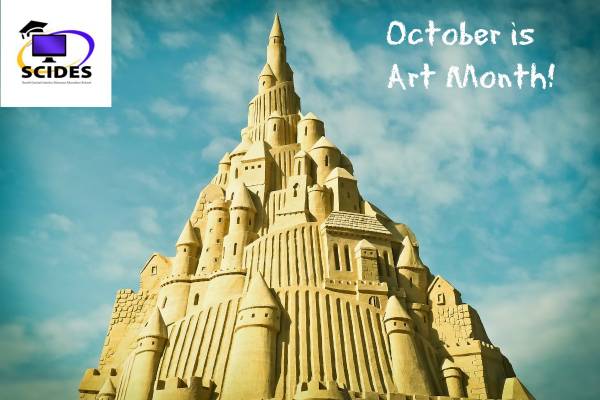 October is Art Month at SCIDES! We're kicking off the new school year with creativity. Last school year, we had Art Month in May, and you can read about it in our blog archive. Just like last time, we have another trip planned to 4Cats Studio, and we'll be offering various activities at SCIDES and online. But there is more! On October 21, 2016 is a non-instructional day (in School District 58), and we challenge you to create something that day.
Here are a few ideas to get you started:
Have you tried knitting? It's a great craft to do while you're watching TV (once you've practised a bit) - and you know winter is coming… Try this simple tutorial for a toque.
Knitting is not so much your thing? How about duct tape? Everyone loves duct tape, right? Try making a wallet out of the sticky stuff – you can find video instructions right here. P.S. Did you know that duct tape was invented during World War II, to quickly repair minor damages to army vehicles? Nowadays it's available in many different patterns, so whether you like Star Wars, Sponge Bob, or Minecraft, the perfect duct tape for your wallet is out there!
Everyone loves stickers, right? (Well, at least the people who apply them to surfaces, maybe not so much the ones having to remove them again…) You can easily make your own custom stickers – how cool is that?! Here is a great tutorial, but remember that those will be very hard to remove, so consider applying them to a board or craft paper, rather than your desk or laptop.
Talking about your desk or laptop – how about customizing your workspace? It's a great project to get creative and have the added benefit of feeling more motivated to get back to work once you're done. You can get started with some great ideas from this article.
And let's not forget about Halloween – it is the season! Get spooky with this easy-to-make floating ghost decoration. Who are you going to scare?
Still not inspired? Here's a whole list of projects to create art for your walls. Pinterest is also a great source of inspiration, so there are no excuses not to join our art challenge!
We'd love to see what you create in October. Post a picture on our Facebook page, so we can share it with our community. Questions and suggestions? Don't hesitate to contact us anytime.
Happy creating!