April is Earth Science Month at SCIDES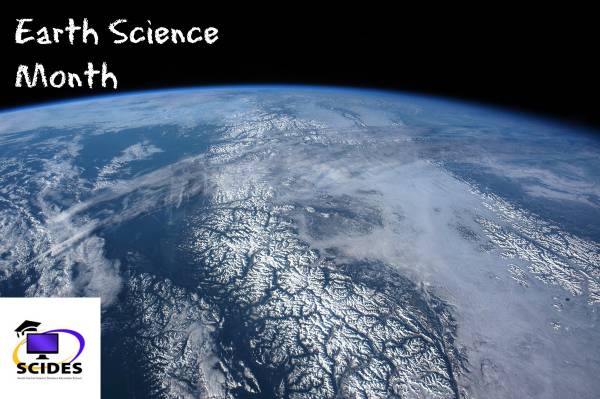 March was Math Month at SCIDES, and we hope you had your slice of Pi! Just in case you missed it, here's something you should not miss: The "Lose Yourself in the Digits" Pi Day video, performed by Pi Diddy.
Now we're moving on to Earth Sciences, and we're talking about Earth Day, Geocaching, and Earth Sciences at SCIDES in this blog post - we know, it's exciting!
Let's start with Earth Day. Earth Day 2016 is observed on April 22, 2016. In fact, it's observed every year on April 22nd, and is known as the largest environmental event worldwide. The Earth Day Canada charity was founded in 1990, and more than six million Canadians participate in Earth Day activities each year. Nearly every school-aged child participates in Earth Day activities through their school and online - it's an important part of learning how to keep our planet healthy for future generations. Earth Day Canada also partners with big and small charities all over the country, to bring activities and celebrations to every corner of Canada, from coast to coast to coast. For 2016, the goal is to plant 25,000 trees - you can read all about it here. If you decide to participate, we'd love to see a picture! Share it with us on our Facebook page, or email it to us and we'll share! Earth Day is celebrated in 192 countries, and that's great - because looking after our planet has to be a joint effort.
Not directly related to Earth Day, but still a powerful documentary about our planet, is the 2006 movie "An Inconvenient Truth" by Al Gore, and in 2016, it's just as relevant as it was on its release date 10 years ago.
A fun way to get out into nature and explore our planet is geocaching - not just in April, but any day of the year! Geocaching is a modern-day treasure hunt, which consists of finding hidden caches with the help of GPS coordinates. Click here for a short overview video, and then get started on the treasure hunt! The coordinates for the hidden objects are posted on geocaching.com; there are over 2 million geocaches worldwide, about 150,000 in British Columbia, and over 550 in the Merritt area! That should give you many hours of adventures, no matter where you are located in BC, and it's a great way to get out and learn about the environment.
Another great way to learn about the environment is by taking one (or all!) of the following SCIDES courses:
What are your plans for April? Will you participate in Earth Day activities? How about going on a treasure hunt adventure? Maybe enroll in one of our Earth Sciences courses? We'd love to hear about it! Chime in on our Facebook page, or get in touch to find out more about enrolling. See you next month!