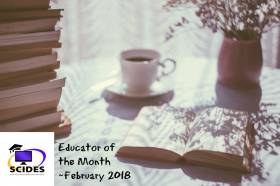 We're excited to share the next Educator of the Month with you - Liz Moore. Here's how she answered our questions (hint: we love her wit and spirit!)
Mrs. Moore, we're thrilled to have you as our Educator of the Month for February. We look forward to finding out more about you! Please introduce yourself.
My name is Liz Moore, and I have lived in Merritt for nearly twenty years. Before that, I lived in the Eastern and Midwest United States, where I attended high school and university. However, my childhood was spent in BC, and this is where I dreamed of returning. A teaching job brought me back, and I am very glad it did.